EVANGELIUM SECUNDUM LUCAM –

10
1 Post haec autem designavit Dominus alios septuaginta duos et misit illos binos ante faciem suam in omnem civitatem et locum, quo erat ipse venturus.
2 Et dicebat illis: " Messis quidem multa, operarii autem pauci; rogate ergo Dominum messis, ut mittat operarios in messem suam.
(…)
La Biblia – El Nuevo Testamento
Evangelio según San Lucas
Índice de capítulos
1. 2. 3. 4. 5. 6. 7. 8. 9. 10. 11. 12. 
13. 14. 15. 16. 17. 18. 19. 20. 21. 22. 23. 24.
Capítulo 10
1 Después de esto, el Señor designó a otros setenta y dos, y los envió de dos en dos para que lo precedieran en todas las ciudades y sitios adonde él debía ir.
2 Y les dijo: «La cosecha es abundante, pero los trabajadores son pocos. Rueguen al dueño de los sembrados que envíe trabajadores para la cosecha.
3 ¡Vayan! Yo los envío como a ovejas en medio de lobos.
4 No lleven dinero, ni alforja, ni calzado, y no se detengan a saludar a nadie por el camino.
5 Al entrar en una casa, digan primero: «¡Que descienda la paz sobre esta casa!».
6 Y si hay allí alguien digno de recibirla, esa paz reposará sobre él; de lo contrario, volverá a ustedes.
7 Permanezcan en esa misma casa, comiendo y bebiendo de lo que haya, porque el que trabaja merece su salario. No vayan de casa en casa.
8 En las ciudades donde entren y sean recibidos, coman lo que les sirvan;
9 curen a sus enfermos y digan a la gente: «El Reino de Dios está cerca de ustedes».
10 Pero en todas las ciudades donde entren y no los reciban, salgan a las plazas y digan:
11 ¡Hasta el polvo de esta ciudad que se ha adherido a nuestros pies, lo sacudimos sobre ustedes! Sepan, sin embargo, que el Reino de Dios está cerca».
12 Les aseguro que en aquel Día, Sodoma será tratada menos rigurosamente que esa ciudad.
13 ¡Ay de ti, Corozaín! ¡Ay de ti, Betsaida! Porque si en Tiro y en Sidón se hubieran hecho los milagros realizados entre ustedes, hace tiempo que se habrían convertido, poniéndose cilicio y sentándose sobre ceniza.
14 Por eso Tiro y Sidón, en el día del Juicio, serán tratadas menos rigurosamente que ustedes.
15 Y tú, Cafarnaúm, ¿acaso crees que serás elevada hasta el cielo? No, serás precipitada hasta el infierno.
16 El que los escucha a ustedes, me escucha a mí; el que los rechaza a ustedes, me rechaza a mí; y el que me rechaza, rechaza a aquel que me envió».
17 Los setenta y dos volvieron y le dijeron llenos de gozo: «Señor, hasta los demonios se nos someten en tu Nombre».
18 El les dijo: «Yo veía a Satanás caer del cielo como un rayo.
19 Les he dado poder de caminar sobre serpientes y escorpiones y para vencer todas las fuerzas del enemigo; y nada podrá dañarlos.
20 No se alegren, sin embargo, de que los espíritus se les sometan; alégrense más bien de que sus nombres estén escritos en el cielo».
21 En aquel momento Jesús se estremeció de gozo, movido por el Espíritu Santo, y dijo: «Te alabo, Padre, Señor del cielo y de la tierra, por haber ocultado estas cosas a los sabios y a los prudentes y haberlas revelado a los pequeños. Sí, Padre, porque así lo has querido.
22 Todo me ha sido dado por mi Padre, y nadie sabe quién es el Hijo, sino el Padre, como nadie sabe quién es el Padre, sino el Hijo y aquel a quien el Hijo se lo quiera revelar».
23 Después, volviéndose hacia sus discípulos, Jesús les dijo a ellos solos: «¡Felices los ojos que ven lo que ustedes ven!
24 ¡Les aseguro que muchos profetas y reyes quisieron ver lo que ustedes ven y no lo vieron, oír lo que ustedes oyen y no lo oyeron!».
25 Y entonces, un doctor de la Ley se levantó y le preguntó para ponerlo a prueba: «Maestro, ¿qué tengo que hacer para heredar la Vida eterna?».
26 Jesús le preguntó a su vez: «¿Qué está escrito en la Ley? ¿Qué lees en ella?».
27 El le respondió: «Amarás al Señor, tu Dios, con todo tu corazón, con toda tu alma, con todas tus fuerzas y con todo tu espíritu, y a tu prójimo como a ti mismo».
28 «Has respondido exactamente, le dijo Jesús; obra así y alcanzarás la vida».
29 Pero el doctor de la Ley, para justificar su intervención, le hizo esta pregunta: «¿Y quién es mi prójimo?».
30 Jesús volvió a tomar la palabra y le respondió: «Un hombre bajaba de Jerusalén a Jericó y cayó en manos de unos ladrones, que lo despojaron de todo, lo hirieron y se fueron, dejándolo medio muerto.
31 Casualmente bajaba por el mismo camino un sacerdote: lo vio y siguió de largo.
32 También pasó por allí un levita: lo vio y siguió su camino.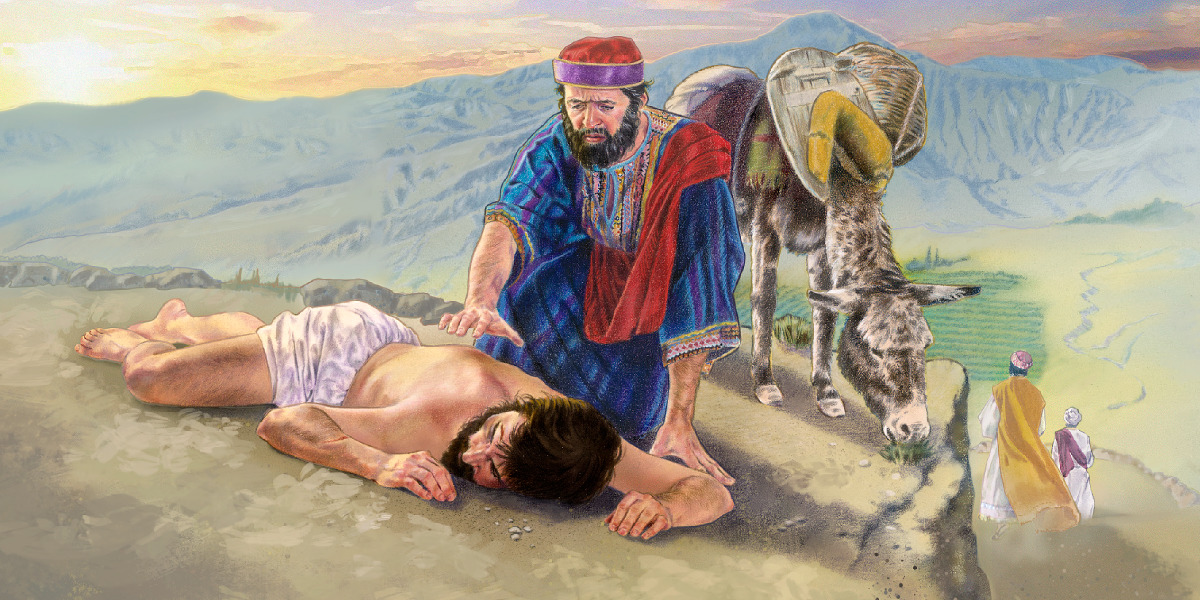 33 Pero un samaritano que viajaba por allí, al pasar junto a él, lo vio y se conmovió.
34 Entonces se acercó y vendó sus heridas, cubriéndolas con aceite y vino; después lo puso sobre su propia montura, lo condujo a un albergue y se encargó de cuidarlo.
35 Al día siguiente, sacó dos denarios y se los dio al dueño del albergue, diciéndole: «Cuídalo, y lo que gastes de más, te lo pagaré al volver»
36 ¿Cuál de los tres te parece que se portó como prójimo del hombre asaltado por los ladrones?».
37 «El que tuvo compasión de él», le respondió el doctor. Y Jesús le dijo: «Ve, y procede tú de la misma manera».El encuentro de Jesús con Marta y María
38 Mientras iban caminando, Jesús entró en un pueblo, y una mujer que se llamaba Marta lo recibió en su casa.
39 Tenía una hermana llamada María, que sentada a los pies del Señor, escuchaba su Palabra.
40 Marta, que muy estaba muy ocupada con los quehaceres de la casa, dijo a Jesús: «Señor, ¿no te importa que mi hermana me deje sola con todo el trabajo? Dile que me ayude».
41 Pero el Señor le respondió: «Marta, Marta, te inquietas y te agitas por muchas cosas,
42 y sin embargo, pocas cosas, o más bien, una sola es necesaria, María eligió la mejor parte, que no le será quitada».
Índice
9. 10. 11. 12. 13. 14. 15. 16. 
17. 18. 19. 20. 21. 22. 23. 24.
The Bible – New Testament
Saint Luke
Index
1. 2. 3. 4. 5. 6. 7. 8. 9. 10. 11. 12. 
13. 14. 15. 16. 17. 18. 19. 20. 21. 22. 23. 24.
Chapter 10
1
1 After this the Lord appointed seventy (-two) 2 others whom he sent ahead of him in pairs to every town and place he intended to visit.
2
He said to them, «The harvest is abundant but the laborers are few; so ask the master of the harvest to send out laborers for his harvest.
3
Go on your way; behold, I am sending you like lambs among wolves.
4
3 Carry no money bag, no sack, no sandals; and greet no one along the way.
5
Into whatever house you enter, first say, 'Peace to this household.' 4
6
If a peaceful person 5 lives there, your peace will rest on him; but if not, it will return to you.
7
Stay in the same house and eat and drink what is offered to you, for the laborer deserves his payment. Do not move about from one house to another.
8
Whatever town you enter and they welcome you, eat what is set before you,
9
cure the sick in it and say to them, 'The kingdom of God is at hand for you.'
10
Whatever town you enter and they do not receive you, go out into the streets and say,
11
'The dust of your town that clings to our feet, even that we shake off against you.' Yet know this: the kingdom of God is at hand.
12
I tell you, it will be more tolerable for Sodom on that day than for that town.
13
6 «Woe to you, Chorazin! Woe to you, Bethsaida! For if the mighty deeds done in your midst had been done in Tyre and Sidon, they would long ago have repented, sitting in sackcloth and ashes.
14
But it will be more tolerable for Tyre and Sidon at the judgment than for you.
15
7 And as for you, Capernaum, 'Will you be exalted to heaven? You will go down to the netherworld.'»
16
Whoever listens to you listens to me. Whoever rejects you rejects me. And whoever rejects me rejects the one who sent me.»
17
The seventy (-two) returned rejoicing, and said, «Lord, even the demons are subject to us because of your name.»
18
Jesus said, «I have observed Satan fall like lightning 8 from the sky.
19
Behold, I have given you the power 'to tread upon serpents' and scorpions and upon the full force of the enemy and nothing will harm you.
20
Nevertheless, do not rejoice because the spirits are subject to you, but rejoice because your names are written in heaven.»
21
At that very moment he rejoiced (in) the holy Spirit and said, «I give you praise, Father, Lord of heaven and earth, for although you have hidden these things from the wise and the learned you have revealed them to the childlike. 9 Yes, Father, such has been your gracious will.
22
All things have been handed over to me by my Father. No one knows who the Son is except the Father, and who the Father is except the Son and anyone to whom the Son wishes to reveal him.»
23
Turning to the disciples in private he said, «Blessed are the eyes that see what you see.
24
For I say to you, many prophets and kings desired to see what you see, but did not see it, and to hear what you hear, but did not hear it.»
25
10 There was a scholar of the law 11 who stood up to test him and said, «Teacher, what must I do to inherit eternal life?»
26
Jesus said to him, «What is written in the law? How do you read it?»
27
He said in reply, «You shall love the Lord, your God, with all your heart, with all your being, with all your strength, and with all your mind, and your neighbor as yourself.»
28
He replied to him, «You have answered correctly; do this and you will live.»
29
But because he wished to justify himself, he said to Jesus, «And who is my neighbor?»
30
Jesus replied, «A man fell victim to robbers as he went down from Jerusalem to Jericho. They stripped and beat him and went off leaving him half-dead.
31
12 A priest happened to be going down that road, but when he saw him, he passed by on the opposite side.
32
Likewise a Levite came to the place, and when he saw him, he passed by on the opposite side.
33
But a Samaritan traveler who came upon him was moved with compassion at the sight.
34
He approached the victim, poured oil and wine over his wounds and bandaged them. Then he lifted him up on his own animal, took him to an inn and cared for him.
35
The next day he took out two silver coins and gave them to the innkeeper with the instruction, 'Take care of him. If you spend more than what I have given you, I shall repay you on my way back.'
36
Which of these three, in your opinion, was neighbor to the robbers' victim?»
37
He answered, «The one who treated him with mercy.» Jesus said to him, «Go and do likewise.»
38
13 As they continued their journey he entered a village where a woman whose name was Martha welcomed him.
39
14 She had a sister named Mary (who) sat beside the Lord at his feet listening to him speak.
40
Martha, burdened with much serving, came to him and said, «Lord, do you not care that my sister has left me by myself to do the serving? Tell her to help me.»
41
The Lord said to her in reply, «Martha, Martha, you are anxious and worried about many things.
42
15 There is need of only one thing. Mary has chosen the better part and it will not be taken from her.»

1 [1-12] Only the Gospel of Luke contains two episodes in which Jesus sends out his followers on a mission: the first (⇒ Luke 10:1-6) is based on the mission in ⇒ Mark 6:6b-13 and recounts the sending out of the Twelve; here in ⇒ Luke 10:1-12 a similar report based on Q becomes the sending out of seventy-two in this gospel. The episode continues the theme of Jesus preparing witnesses to himself and his ministry. These witnesses include not only the Twelve but also the seventy-two who may represent the Christian mission in Luke's own day. Note that the instructions given to the Twelve and to the seventy-two are similar and that what is said to the seventy-two in ⇒ Luke 10:4 is directed to the Twelve in ⇒ Luke 22:35.
2 [1] Seventy[-two]: important representatives of the Alexandrian and Caesarean text types read «seventy,» while other important Alexandrian texts and Western readings have «seventy-two.»
3 [4] Carry no money bag . . . greet no one along the way: because of the urgency of the mission and the singlemindedness required of missionaries, attachment to material possessions should be avoided and even customary greetings should not distract from the fulfillment of the task.
4 [5] First say, «Peace to this household': see the notes on ⇒ Luke 2:14 and ⇒ Matthew 10:13.
5 [6] A peaceful person: literally, «a son of peace.»
6 [13-16] The call to repentance that is a part of the proclamation of the kingdom brings with it a severe judgment for those who hear it and reject it.
7 [15] The netherworld: the underworld, the place of the dead (⇒ Acts 2:27, ⇒ 31) here contrasted with heaven; see also the note on ⇒ Matthew 11:23.
8 [18] I have observed Satan fall like lightning: the effect of the mission of the seventy-two is characterized by the Lucan Jesus as a symbolic fall of Satan. As the kingdom of God is gradually being established, evil in all its forms is being defeated; the dominion of Satan over humanity is at an end.
9 [21] Revealed them to the childlike: a restatement of the theme announced in ⇒ Luke 8:10: the mysteries of the kingdom are revealed to the disciples. See also the note on ⇒ Matthew 11:25-27.
10 [25-37] In response to a question from a Jewish legal expert about inheriting eternal life, Jesus illustrates the superiority of love over legalism through the story of the good Samaritan. The law of love proclaimed in the «Sermon on the Plain» (⇒ Luke 6:27-36) is exemplified by one whom the legal expert would have considered ritually impure (see ⇒ John 4:9). Moreover, the identity of the «neighbor» requested by the legal expert (⇒ Luke 10:29) turns out to be a Samaritan, the enemy of the Jew (see the note on ⇒ Luke 9:52).
11 [25] Scholar of the law: an expert in the Mosaic law, and probably a member of the group elsewhere identified as the scribes (⇒ Luke 5:21).
12 [31-32] Priest . . . Levite: those religious representatives of Judaism who would have been expected to be models of «neighbor» to the victim pass him by.
13 [38-42] The story of Martha and Mary further illustrates the importance of hearing the words of the teacher and the concern with women in Luke.
14 [39] Sat beside the Lord at his feet: it is remarkable for first-century Palestinian Judaism that a woman would assume the posture of a disciple at the master's feet (see also ⇒ Luke 8:35; ⇒ Acts 22:3), and it reveals a characteristic attitude of Jesus toward women in this gospel (see ⇒ Luke 8:2-3).
15 [42] There is need of only one thing: some ancient versions read, «there is need of few things»; another important, although probably inferior, reading found in some manuscripts is, «there is need of few things, or of one.»
Índex
9. 10. 11. 12. 13. 14. 15. 16. 
17. 18. 19. 20. 21. 22. 23. 24.
10
1 Post haec autem designavit Dominus alios septuaginta duos et misit illos binos ante faciem suam in omnem civitatem et locum, quo erat ipse venturus.
2 Et dicebat illis: " Messis quidem multa, operarii autem pauci; rogate ergo Dominum messis, ut mittat operarios in messem suam.
3 Ite; ecce ego mitto vos sicut agnos inter lupos.
4 Nolite portare sacculum neque peram neque calceamenta et neminem per viam salutaveritis.
5 In quamcumque domum intraveritis, primum dicite: "Pax huic domui".
6 Et si ibi fuerit filius pacis, requiescet super illam pax vestra; sin autem, ad vos revertetur.
7 In eadem autem domo manete edentes et bibentes, quae apud illos sunt: dignus enim est operarius mercede sua. Nolite transire de domo in domum.
8 Et in quamcumque civitatem intraveritis, et susceperint vos, manducate, quae apponuntur vobis,
9 et curate infirmos, qui in illa sunt, et dicite illis: "Appropinquavit in vos regnum Dei".
10 In quamcumque civitatem intraveritis, et non receperint vos, exeuntes in plateas eius dicite:
11 "Etiam pulverem, qui adhaesit nobis ad pedes de civitate vestra, extergimus in vos; tamen hoc scitote, quia appropinquavit regnum Dei".
12 Dico vobis quia Sodomis in die illa remissius erit quam illi civitati.
13 Vae tibi, Chorazin! Vae tibi, Bethsaida! Quia si in Tyro et Sidone factae fuissent virtutes, quae in vobis factae sunt, olim in cilicio et cinere sedentes paeniterent.
14 Verumtamen Tyro et Sidoni remissius erit in iudicio quam vobis.
15 Et tu, Capharnaum, numquid usque in caelum exaltaberis? Usque ad infernum demergeris!
16 Qui vos audit, me audit; et, qui vos spernit, me spernit; qui autem me spernit, spernit eum, qui me misit ".
17 Reversi sunt autem septuaginta duo cum gaudio dicentes: " Domine, etiam daemonia subiciuntur nobis in nomine tuo! ".
18 Et ait illis: " Videbam Satanam sicut fulgur de caelo cadentem.
19 Ecce dedi vobis potestatem calcandi supra serpentes et scorpiones et supra omnem virtutem inimici; et nihil vobis nocebit.
20 Verumtamen in hoc nolite gaudere, quia spiritus vobis subiciuntur; gaudete autem quod nomina vestra scripta sunt in caelis ".
21 In ipsa hora exsultavit Spiritu Sancto et dixit: " Confiteor tibi, Pater, Domine caeli et terrae, quod abscondisti haec a sapientibus et prudentibus et revelasti ea parvulis; etiam, Pater, quia sic placuit ante te.
22 Omnia mihi tradita sunt a Patre meo; et nemo scit qui sit Filius, nisi Pater, et qui sit Pater, nisi Filius et cui voluerit Filius revelare ".
23 Et conversus ad discipulos seorsum dixit: " Beati oculi, qui vident, quae videtis.
24 Dico enim vobis: Multi prophetae et reges voluerunt videre, quae vos videtis, et non viderunt, et audire, quae auditis, et non audierunt ".
25 Et ecce quidam legis peritus surrexit tentans illum dicens: " Magister, quid faciendo vitam aeternam possidebo? ".
26 At ille dixit ad eum: " In Lege quid scriptum est? Quomodo legis? ".
27 Ille autem respondens dixit: " Diliges Dominum Deum tuum ex toto corde tuo et ex tota anima tua et ex omnibus viribus tuis et ex omni mente tua et proximum tuum sicut teipsum ".
28 Dixitque illi: " Recte respondisti; hoc fac et vives ".
29 Ille autem, volens iustificare seipsum, dixit ad Iesum: " Et quis est meus proximus? ".
30 Suscipiens autem Iesus dixit: " Homo quidam descendebat ab Ierusalem in Iericho et incidit in latrones, qui etiam despoliaverunt eum et, plagis impositis, abierunt, semivivo relicto.
31 Accidit autem, ut sacerdos quidam descenderet eadem via et, viso illo, praeterivit;
32 similiter et Levita, cum esset secus locum et videret eum, pertransiit.
33 Samaritanus autem quidam iter faciens, venit secus eum et videns eum misericordia motus est,
34 et appropians alligavit vulnera eius infundens oleum et vinum; et imponens illum in iumentum suum duxit in stabulum et curam eius egit.
35 Et altera die protulit duos denarios et dedit stabulario et ait: "Curam illius habe, et, quodcumque supererogaveris, ego, cum rediero, reddam tibi".
36 Quis horum trium videtur tibi proximus fuisse illi, qui incidit in latrones? ".
37 At ille dixit: " Qui fecit misericordiam in illum ". Et ait illi Iesus: " Vade et tu fac similiter ".
38 Cum autem irent, ipse intravit in quoddam castellum, et mulier quaedam Martha nomine excepit illum.
39 Et huic erat soror nomine Maria, quae etiam sedens secus pedes Domini audiebat verbum illius.
40 Martha autem satagebat circa frequens ministerium; quae stetit et ait: " Domine, non est tibi curae quod soror mea reliquit me solam ministrare? Dic ergo illi, ut me adiuvet ".
41 Et respondens dixit illi Dominus: " Martha, Martha, sollicita es et turbaris erga plurima,
42 porro unum est necessarium; Maria enim optimam partem elegit, quae non auferetur ab ea ".